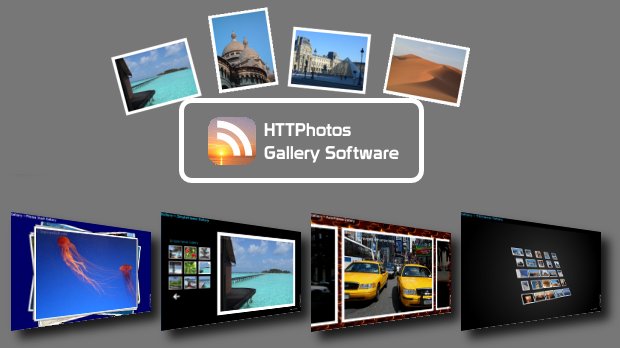 Description
HTTPhotos is a software dedicated to online photo gallery creation.
It covers all necessary steps to create a photo gallery, from photo selection to web publishing with capability of touching up photos, adding captions, including watermarks, customizing templates, creating thumbnails, generating HTML or Flash, ...
Gallery Templates
HTTPhotos is based on famous photo gallery templates:
Also check out the Homepage built and maintained by HTTPhotos each time you create a new photo album.
Software Overview
The software is organized around 4 tabs that reflect a natural workflow:
Import of photos, selection and reordering
Touch-Up
Template customization
Photo gallery creation
Photo Selection

This tab is the starting point where photos are imported straight from the digicam memory card, hard drive, cdrom, ... The main purpose of this section is to select or exclude photos from the gallery, to reorganize the slideshow sequence by drag'n drop of thumbnails, to manually rotate pictures in case the automatic EXIF based rotation is wrong, ...

Photo Touch-Up

This tab provides a basic photo editor to adjust luminosity, contrast, ... A crop functionality is also provided with or without ratio constraints. It's also the place to add captions that will be displayed in the final web photo gallery.

Gallery Template Customization

This tab is made to customize the web photo gallery. Many templates are available where it is possible to select colors, textures, fonts, ... It's also the place where a watermark can be defined to be applied to all photos of the gallery. In addition to the instant preview, a preview in browser functionality is provided.

Photo Gallery Creation

All photo galleries you create are listed there. Just click one of them to open it in a web browser. This is also from where to click to create your photo gallery, either on your local drive or online.
Download
Version: 2.9
Size: 940 Kb (about 1Mb)
System Requirement: Windows 95, 98, 2000, NT, XP, Vista, 7
FAQ
When I create a photo gallery, in which folder is it written?

When you click on Write On Local Drive button, you create the photo gallery in the folder My Documents\httphotos\. An easy way to know the exact path to the gallery is to click on the album name in the list. This will open an internet browser window at this gallery. Just check the URL displayed in the browser.

Can I create a photo gallery with HTTPhotos and use it on a commercial website?

Yes, you are free to upload the photo gallery you create with HTTPhotos to any website, including commercial ones. Please consider a donation so it will help us make improvement to this convenient and free gallery software.

How to update HTTPhotos with the latest version?

HTTPhotos will warn you when a new version is available. You only have to download the latest version and run the install setup. There is no need to uninstall the prior version.

How to create a photo gallery?

Here is a 3 clicks scenario to help you create your first photo gallery:

From "Select Photos" tab, click the "add photos" icon (1st click)
Select photos you want to put in your web gallery (you can use CTRL-A)
Your selection will show as thumbnails you can reorganize by drag'n drop
From "Publish To Web" tab (2nd click), click on "Write On Local Drive" button (3rd click)

Will I lose any of my albums by uninstalling or updating HTTPhotos?

No, uninstalling or updating HTTPhotos won't delete your albums.

What is the User Account for?

When you create a photo gallery, you want to upload it online so people can access it from the web. You're free to select any web host for this purpose. If you create a user account on digicamsoft.com, you will be able to publish your photo galleries to this web server. If you open a photo account on digicamsoft.com, you'll be able to upload your photos online in just one click!
Learn more about photo web hosting

Is there any limitations to this gallery software?

No, HTTPhotos comes for free without any kind of limitations. Donations, feedback are welcome.

How do I embed a photo gallery hosted on digicamsoft.com in my website?

You can embed a photo gallery hosted on digicamsoft server in your own website, blog, classifieds, ... To do so, just copy/paste the following line, replacing demo by your own account:
<iframe src ="http://www.digicamsoft.com/demo" width="800" height="800"> </iframe>

Questions? Feedback?
Other Free Software
If you like HTTPhotos, you may also like
Namexif to rename to EXIF date
.