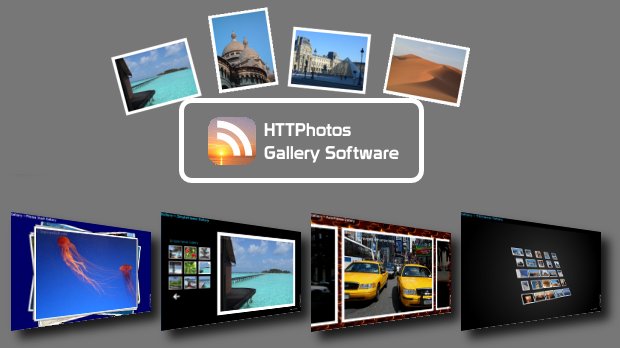 Description
HTTPhotos is a free software to make web photo galleries.
It automatically generates a web photo album from your photo selection and comes with ready made and customizable gallery templates. You can import photos by selecting them individually or straight from a folder, then you can rearrange them with simple drag and drop and refine your selection with tools to rate or exclude your photos. It also includes a photo editor for standard transformations like crop/zoom or rotations, adding captions or watermarks. All operations are non destructives and can even be performed from a read only media like a CDROM, DVD or even straight from your digital camera. HTTPhotos creates a photo gallery and save it to a folder where it generates all necessary thumbnails, resized photos, HTML code, Flash, JQuery and Javascript. You're free to upload this photo album anywhere on your own server for personal or commercial purpose or to host it on digicamsoft.com servers for a competitive price. HTTPhotos is freeware with no limitations and both the software and generated galleries are ad free.
Gallery Templates
HTTPhotos output is based on famous HTML/Flash/JQuery based photo gallery templates:
Each time you make a new photo gallery, a home page is updated to list all photo galleries created: Homepage.
Download
Version: 3.0
Size: 2.3MB
System Requirement: Windows 95, 98, 2000, NT, XP, Vista, 7, 8
Software Overview
The software is organized around 4 tabs that reflect a natural workflow:
Import, select and organize photos
Touch-up, add captions
Select and customize templates
Create photo gallery
Select and organize photos

This tab is the starting point from where photos are imported straight from the digital camera memory card, hard drive, CDROM, ... Photos are imported either by individual selection or from a folder. Photos can be excluded from selection, or rated in order to refine your photo selection. Rated photos can be exported to another HTTPhotos instance. It is possible to copy/paste photos either within the same HTTPhotos instance or multiple ones. This tab behave like a light table where you can organize your photo selection by thumbnails drag and drop. Any photo can be sent to photo editor tab.

Touch-up and captions

This is an optional tab providing a basic photo editor to adjust luminosity and contrast or to rotate the photo to correct its orientation. You can also crop/zoom photo with or without ratio constraints (like square, 3/2, 4/3 which are photo standards). You can add captions, or apply filters like blur, sharpen, black'n white, color inversion, emboss, mirror. Some photo properties are displayed like filename, size, EXIF date, photo resolution. A slideshow mode is available to review the whole photo selection automatically.

Select and customize templates

A photo album template is selected by default and this tab is to customize your web photo gallery. HTML, Flash or JQuery templates are available with customizable options like text font or color, background color or textures, image size or frame. A watermark can be defined and applied to all photos of the gallery. An instant preview gives an idea of the final result but a preview in web browser is also provided for exact and final rendering. Thumbnailing and resizing are cached in memory so the time required for processing is saved for the next previews.

Create photo gallery

Here you set a title for your photo album and just click on a button to make the whole photo gallery. All photo galleries made are listed and linked there. You just have to click on one to open it in a web browser. Photo galleries are listed by chronological order. Each gallery has a date associated that can be edited at anytime. There are two modes: offline and connected. If you're offline, then the photo gallery is saved on your hard drive in My Documents\httphotos\. If you're connected via an account opened on digicamsoft.com servers, then your photo gallery will be uploaded and available on this server.
FAQ
How to make a photo gallery?

Please check at Getting Started as well as more advanced functionalities in this User Guide.

Can I make a photo gallery with HTTPhotos and use it on a commercial website?

Yes, you are free to upload the photo gallery created with HTTPhotos to any website, including commercial ones. Please consider a donation!

How to update HTTPhotos with the latest version?

HTTPhotos warns you when a new version is available. You only have to download the latest version and run the install setup over the existing installation. You don't have to uninstall the prior version.

Will I lose any of my albums by uninstalling or updating HTTPhotos?

No, uninstalling or updating HTTPhotos won't remove your photo albums.

What is the User Account for?

When you make a photo gallery, you want to upload it online so people can access it from the web. You're free to select any web host for this purpose. If you create a user account on digicamsoft.com, you will be able to publish your photo galleries to this web server. If you open a photo account on digicamsoft.com, you'll be able to upload your photos online in just one click!
Learn more about photo web hosting

How do I embed a photo gallery hosted on digicamsoft.com in my website?

You can embed a photo gallery hosted on digicamsoft server in your own website, blog, classifieds, ... To do so, just copy/paste the following line, replacing demo by your own account:
<iframe src ="http://www.digicamsoft.com/demo" width="800" height="800"> </iframe>

Questions? Feedback?
Other Free Software
If you like HTTPhotos, you may also like
Namexif to rename to EXIF date
.