GreG
on 1-Nov-2008
Hi!

By popular demand, a new version of Namexif is out!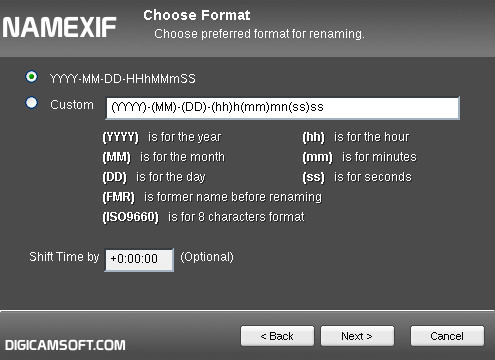 Notice the capability to offset the time while renaming, allowing to
synchronize sets of photos taken by different digital cameras, or to
reflect a time zone change.

Go download it here
http://www.digicamsoft.com/softnamexif.html
JohnDoe777
on 10-Nov-2008
Cool GreG..Big thanks!! :D
GreG
on 11-Nov-2008
JohnDoe777: You're welcome!

movesen
on 16-Nov-2008
Great. I have been looking for
this little tools for more than 1 year and it is just great. Specialy
when you have multiple camaras with incorrect time and you want to sort
it. You may want to enable shift date also, in case the Camera is not
set for the correct date, but this is minor.
Anyway thanks.